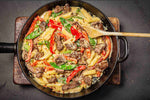 Super simple and delicious creamy garlic pasta packed With Flavour. This Ostrich Pasta will be your next go to recipe.
400 g Ostrich Steak
1 T olive oil
200 g brown mushrooms, torn
sprigs thyme a few
4 cloves garlic, finely chopped
1 red pepper
2 cups cream
sea salt and freshly ground black pepper, to taste
500g pasta
¼ cup Parmesan, grated
Cut the Ostrich Steaks in strips. Gently fry in a little olive oil over a medium to high heat until golden brown.
Add the mushrooms, red pepper, thyme and garlic and cook for a further minute.
Add the cream and reduce slightly, then season to taste.
Toss the pasta with the mushroom sauce. Sprinkle with the Parmesan to serve.