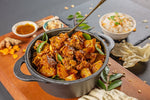 Our Ostrich meat is delicious and naturally low in Fat! This delicious Ostrich Curry recipe is easy to make, indulgent and full of flavour!
500 g Ostrich Goulash
1 cup water, plus extra is necessary
40 ml oil
1 large onion, corsely chopped
Salt, to taste
2 garlic cloves, crushed
1 red pepper, chopped
1 green pepper, chopped
1 green chilli, chopped
1 chilli beef stock cube
1 t mild Rajah curry powder
1 t Robertson steak and chops spice
1 t Robertson barbeque spice
Place the meat and ½ cup water in a potjie over an outdoor fire. Boil for 30 minutes. The water should boil away – take care that the meat does not catch.
Add the oil, onion, salt, garlic, peppers, chilli and the remaining water and cook for 20 minutes, stirring occasionally.
Add the stock cube and remaining spices and mix. Cook for 15 minutes. Add more water if necessary and cook for an additional 15 minutes, or until the meat is soft. Season with salt to taste. 
Cook's note: This Ostrich Curry is made outdoors on a wood fire, which imparts a lovely smokiness. A potjie refers to a traditional three-legged cast-iron pot, popular in South Africa. Feel free to use any cast-iron pot you have, raising and protecting the bottom layer if using a flat pot. You can also make this curry on the braai.